Snippets, Tools and Workflows
Most information is targeted at these topics/environments:

Linux

Java

nginx/Apache

Postgres/MySQL
Gathering information is one thing - the other is the interpretation and building hypothesis and falsifying them avoiding the common cognitive bias.[2].
A Fool with a Tool is Still a Fool
— Ron Weinstein
If you, the humble reader may want to share additional information like snipppets, tools or workflows, please feel free to use the contact form on my blog here: www.hascode.com.
This document is structured in the following chapters, please feel free to skip to the chapter of choice.
This chapter explains how to create thread and heap dumps, how to collect and analyze garbage-collection logs, how to use the Java ™ Mission Control and Flight Recorder, inspecting the HotSpot compiler and debugging native memory leaks.

This chapter gives some examples how to gather system information like RAM, CPU, disk usage, disk speed, cronjobs, network usage and open file handles.

A short documentation where to find log files for typical software like nginx, apache webserver, MySQL, Postgres, OpenLDAP and Postfix.

Some examples for analyzing slow queries, table and user locks in Postgres and MySQL databases.

Snippets and tools for analyzing webserver and access logs.

Snippets for logging dropped packets.

Miscellaneous tools and resources.
| | |
| --- | --- |
| | As logs may be rotated, deleted etc. we should save every log file close to the time of the incident as soon as possible. |
Typical locations to look for are..
Log file locations are configured in /etc/nginx/nginx.conf or server declarations in /etc/nginx/sites-available.
Defaults files to look for:
/var/log/nginx/error.log

/var/log/nginx/access.log
Config files reside in /etc/httpd, main config file is /etc/httpd/conf/httpd.conf.
Log files may be placed in /var/www/httpd/.
Config files reside in /etc/mysql/my.cnf or /etc/my.cnf.
Log files may be found in /var/log/mysql.
Config files may reside here..
RHEL/CentOS: /etc/openldap/slapd.conf

Debian/Ubuntu: /etc/ldap/slapd.conf

FreeBSD: /usr/local/etc/openldap/slapd.conf

OpenBSD: /etc/openldap/slapd.conf
/var/log/openldap.log or if empty look in syslog /var/log/messages or /var/log/syslog
Config files reside in /etc/postfix, namely main.cf and master.cf.
Log files may be found in /var/log/maillog or /var/log/mail.log.
| | |
| --- | --- |
| | The following sections has a strong focus on Postgres and MySQL. |
sudo apt install goaccess
goaccess access.log -c
The tool also handles webserver logs..
sudo apt install petit
petit --mgraph logfile
iptables -N LOGGING
iptables -A INPUT -j LOGGING
iptables -A LOGGING -m limit --limit 2/min -j LOG --log-prefix "IPTables-Dropped: " --log-level 4
iptables -A LOGGING -j DROP
iptables -N LOGGING
iptables -A OUTPUT -j LOGGING
iptables -A LOGGING -m limit --limit 2/min -j LOG --log-prefix "IPTables-Dropped: " --log-level 4
iptables -A LOGGING -j DROP
a method of problem solving for identifying root causes of faults or problems[3].
The RCA can be used by following these four steps:
Create an exact description/definition of the failure or problem (five-whys-technique might help)

Create a timeline from the normal state to the failure

Identify root causes and distinguish them from other causal factors

Implement and constantly execute RCA to apply it as a method of problem prediction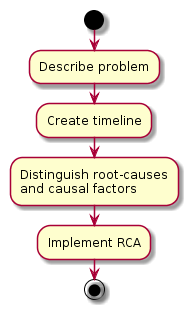 2. Root Cause Analysis
Calculate the mandatory uptime for a given percentual SLA agreement
| | |
| --- | --- |
| | My //TODO list of topics where I need/want to add more information.. |
German law demands to include the following legal information:
Pfarrer-Goedecker-Str. 27A
Kontakt

E-Mail: webmaster AT hascode.com
Pfarrer-Goedecker-Str. 27A
Als Diensteanbieter sind wir gemäß § 7 Abs.1 TMG für eigene Inhalte auf diesen Seiten nach den allgemeinen Gesetzen verantwortlich.
Nach §§ 8 bis 10 TMG sind wir als Diensteanbieter jedoch nicht verpflichtet, übermittelte oder gespeicherte fremde Informationen zu überwachen oder nach Umständen zu forschen, die auf eine rechtswidrige Tätigkeit hinweisen.
Verpflichtungen zur Entfernung oder Sperrung der Nutzung von Informationen nach den allgemeinen Gesetzen bleiben hiervon unberührt.
Eine diesbezügliche Haftung ist jedoch erst ab dem Zeitpunkt der Kenntnis einer konkreten Rechtsverletzung möglich. Bei Bekanntwerden von entsprechenden Rechtsverletzungen werden wir diese Inhalte umgehend entfernen.
Unser Angebot enthält Links zu externen Websites Dritter, auf deren Inhalte wir keinen Einfluss haben. Deshalb können wir für diese fremden Inhalte auch keine Gewähr übernehmen.
Für die Inhalte der verlinkten Seiten ist stets der jeweilige Anbieter oder Betreiber der Seiten verantwortlich.
Die verlinkten Seiten wurden zum Zeitpunkt der Verlinkung aufmögliche Rechtsverstöße überprüft. Rechtswidrige Inhalte waren zum Zeitpunkt der Verlinkung nicht erkennbar.
Eine permanente inhaltliche Kontrolle der verlinkten Seiten ist jedoch ohne konkrete Anhaltspunkte einer Rechtsverletzung nicht zumutbar.
Bei Bekanntwerden von Rechtsverletzungen werden wir derartige Links umgehend entfernen.
Die durch die Seitenbetreiber erstellten Inhalte und Werke auf diesen Seiten unterliegen dem deutschen Urheberrecht.
Die Vervielfältigung, Bearbeitung, Verbreitung und jede Art der Verwertung außerhalb der Grenzen des Urheberrechtes bedürfen der schriftlichen Zustimmung des jeweiligen Autors bzw. Erstellers.
Downloads und Kopien dieser Seite sind nur für den privaten, nicht kommerziellen Gebrauch gestattet.
Soweit die Inhalte auf dieser Seite nicht vom Betreiber erstellt wurden, werden die Urheberrechte Dritter beachtet.
Insbesondere werden Inhalte Dritter als solche gekennzeichnet.
Sollten Sie trotzdem auf eine Urheberrechtsverletzung aufmerksam werden, bitten wir um einen entsprechenden Hinweis.
Bei Bekanntwerden von Rechtsverletzungen werden wir derartige Inhalte umgehend entfernen.